What a Birthday Party, and great so many could make it. After 50 years and we can still put out over 40 bowlers, and on top of that beat the current students. More on that later. To those who didn't make it, we missed you and hope you can make 2020. The Sheffield Star published a center fold spread on our 50 year history in the Retro (ouch) section. You can view it at The Sheffield Star
Our friends came from all over the world again, Graham and Sandy Brisbane from Australia, Paul (IF) Dransfield and Fiona McDonald came from Canada, Mick and Margaret Hesford from Florida, Jon Brundrett from New York, Marie-Jacqueline Ballagh and myself from France. We had a newcomer too, John Moore, who bowled in the What 4 with me, which was moving. So, as I say every time in my diary, yes we did have something special back in the 60's and 70's. The only bad thing this time was the crap crap bowling (yes – 2 craps), but we still managed to beat the students (but only just).
The weekend started in the Broomhill Tavern, as usual, with a great crowd. Dave Horsfall popped in (remember he was in charge of the Athletics council) and got us classified as a sport!!!!!!! He was awarded the MBE, (it was said for Community Service), but it was really for his services to our club.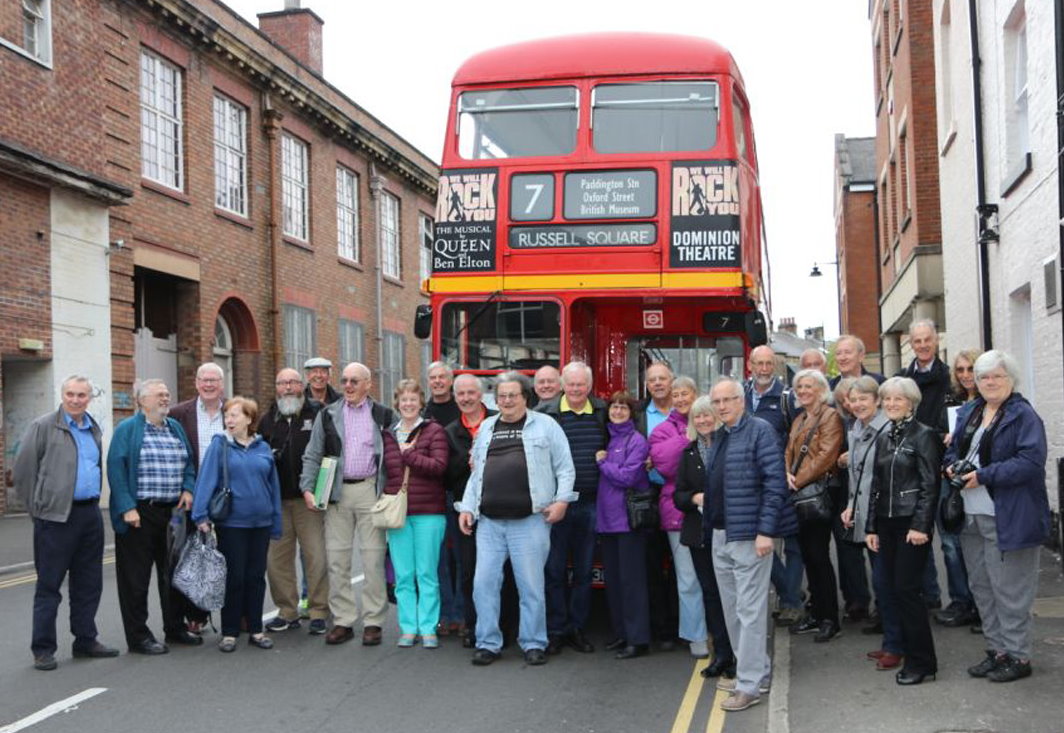 We had a special event in the afternoon, Fuzz took us round Sheffield in his Red Bus (our old haunts). I was the conductor (with my flat cap and genuine ticket machine from the 40's).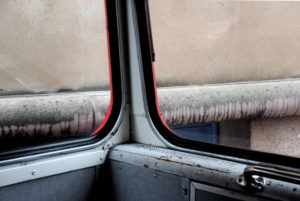 He tried to go down a very narrow one-way street BUT failed (see picture), and then had to go the wrong way down another one-way street. Things don't change with us do they.
Roy added a tour of the University in the middle of the bus tour (and of course a wee-wee break).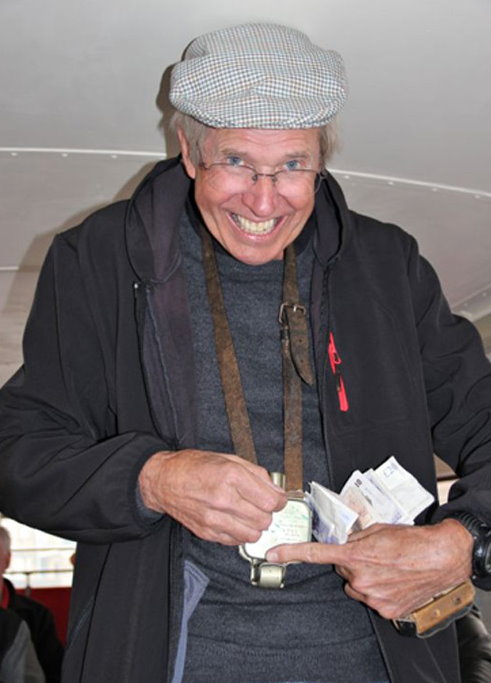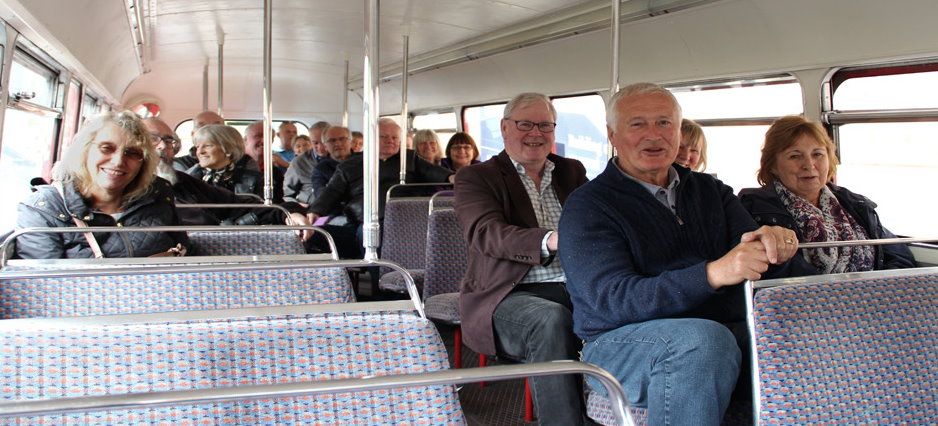 In the evening 53 folks met at Halifax Hall which we used last time, and we had speeches of special memories by ex-officials – Fuzz, Michael and Margaret and Jim Wise. I thank all of you who provided memories for this special occasion.
We then all met up at Firth Park on the Sunday Morning at 10-00 a.m. As usual we played among ourselves to find the best few to play the students in the afternoon.
There were 41 bowling (and I use the term loosely), as the bowling was to say the least – rubbish. There were only three 500's (2 of these were Gary and John – NON Sheffield), and ZERO 200's. Everyone said it was the lanes (haha). Bert the Bus was still in fine form. The Yellow shirts were out again (not all buttoned up again), and looking in very bad shape for some (the shirts that is).
We had a good lunch (thanks to the bowl) and our usual prize giving. Thanks to Bert the Bus we had a special Birthday cake. The results were:
John Strettle (550) and  Ruth Prichard (416) won the High Series.
Alan Metcalf (513) and Margaret Hesford (386) received their Ozz Trophies (thanks to Jane).
Sue Sexton (157) and Dave Sexton (179) won High Games.
Then of course we had the traditional wooden spoons for low series and game:
Low Series – Linda Jordan (she now has a set) and Bert the Bus
Low Game – Jenny Wise and Alan Dale.
The full results are on the sidebar if you want a laugh . . . !
We had more memory speeches from the ex-officers, Chris Braithwaite and Mike O'Rourke, and then a moving moment remembering Bob Keats who had died just before the reunion, but gave us one of his bowling pins. It was presented to Fiona for long term friendship. We all miss him for his humour and happiness.
We then picked our 5 best bowlers (ha ha ha) and played the student teams in the afternoon. We put together a team of 3 Old Sheffield students and a team of 2 Ex-Sheffield Students. It was a very close match which we won on total pins (see results below). The New students had had special shirts made to celebrate the 50th Birthday of the club. I will send details on them (in a separate message later), in case anyone wants to purchase them. The usual liquid prize was presented and we all went home happy.
Sheffield Oldies
Sheffield Newbies
A Team
Game 1
Game 2
Game 3
Series
Student A Team
Game 1
Game 2
Game 3
Series
Dave Sexton
136
117
124
377
Shen Pan
143
106
151
400
Dave Rowe
155
157
136
448
Thaqif Jamaluddin
146
184
134
464
Alan Metcalf
187
121
161
469
Wei Yeap Lim
113
128
122
363
Total
478
395
421
1294
Total
402
418
407
1227
B Team
Game 1
Game 2
Game 3
Series
Student B Team
Game 1
Game 2
Game 3
Series
John Strettle
157
176
171
504
Abdullah Al-tamimi
179
175
177
531
Gary barlow
158
190
185
533
Darren Ellis
191
131
202
524
Total
315
366
356
1037
Total
370
306
379
1055
Total Pins:
2331
Total Pins:
2282
Total Points:
4
Total Points:
4
We won on Total PINS
Thanks to John (Whitfield) and Roy (Thurling) who managed all the logistics for the weekend, and made it the success it was.
Finally, many of you saw the souvenir book I put together. I will complete it with the 2017 photos and results and make the corrections. Then share it via internet. Fuzz and I will then work out how to make cheap printed copies for those who want one.
So until next time, in 2020, keep practising (bowling and / or alcohol intake) .
Roy, John and Dave – The Commmittteeeeeeeeeeeeeeeeeeee